One of the most significant modules for managing SAP Finance and Accounting driven by SAP HANA is SAP Simple Finance (S/4 HANA Finance). It is used to perform real-time financial processes and accounting, as well as reporting utilising business intelligence tools. SAP Simple Finance aids in the analysis of a company's financial position in the market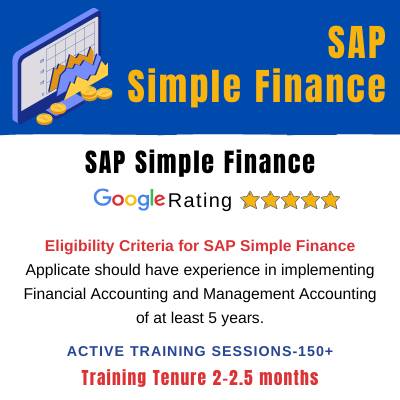 About Course
Main Topics
Course Highlights
Hiring companies
Trainer Profile
Certification
FAQs
About Course
One of the most significant modules for managing SAP Finance and Accounting driven by SAP HANA is SAP Simple Finance (S/4 HANA Finance). It is used to perform real-time financial processes and accounting, as well as reporting utilising business intelligence tools. SAP Simple Finance aids in the analysis of a company's financial position in the market.All data is saved and calculations are conducted at the database level in standard SAP applications. At the application layer, the results are shown. Calculations and aggregations take up the majority of query processing time. To optimise query execution performance, it is advised that all application logic be shifted to the database level.
SAP HANA-based apps deliver the best application performance by pushing the execution as far as feasible into the database. Because all of the data is kept in an in-memory database, reading data is much faster than with a traditional database. 
SAP HANA allows for real-time data replication, which reduces data load latency and complexity.
What you'll learn in this course:
End to End business process based training.

Covering Theory as well as practical aspects of

SAP Simple finance

Necessary setup and migration steps  in SAP simple finance

How to implement knowledge in the business process of SAP for different clients.

Techniques & process to apply it.
Who can Learn SAP Simple Finance :
Anyone who has a keen interest in making a career in

SAP.

Who worked as a SAP FICO

An individual should possess excellent communication skills.

should be a good team player

Basic computer knowledge 

Applicants need to be graduates

 knowledge in the area in which you want to do the SAP course will be a big plus
Main Topics
Course Highlights
Hiring companies
Trainer Profile
Certification
FAQs
By Industry Experts
Free Demo Session On Your Selected Course
It's very good platform to make our career in IT industries.. Experience trainer are available to provide the quality training to make career. You should have to choose the upsurge Infotech to make your career in IT industries. Regards SHASHI Maurya
Best Institute. All teaching staff are good.. I have done software testing and my experience is good and Teaching techniques are simple and easy to understood .
Namrata Maskare
2022-10-16
I joined Software Testing class in Upsurge Infotech. I must say that the teaching staff and all the Upsurge Members are very good , kind and helpful. As soon as I completed Testing course I got placed in a company. I am really very very happy that I choosed upsurge to grow in my career. Thankyou Upsurge Team☺