SAP Simple Finance Course
One of the most significant modules for managing SAP Finance and Accounting driven by SAP HANA is SAP Simple Finance (S/4 HANA Finance). It is used to perform real-time financial processes and accounting, as well as reporting utilising business intelligence tools. SAP Simple Finance aids in the analysis of a company's financial position in the market
100% Placement Assistance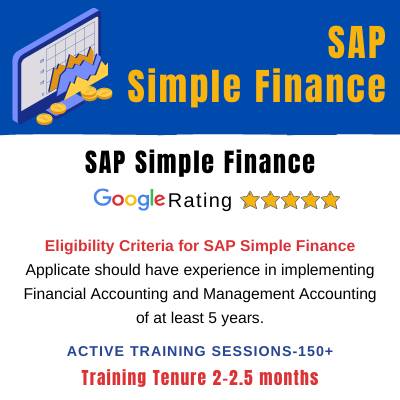 About Course
Main Topics
Course Highlights
Hiring companies
Trainer Profile
Certification
FAQs
About Course
One of the most significant modules for managing SAP Finance and Accounting driven by SAP HANA is SAP Simple Finance (S/4 HANA Finance). It is used to perform real-time financial processes and accounting, as well as reporting utilising business intelligence tools. SAP Simple Finance aids in the analysis of a company's financial position in the market.All data is saved and calculations are conducted at the database level in standard SAP applications. At the application layer, the results are shown. Calculations and aggregations take up the majority of query processing time. To optimise query execution performance, it is advised that all application logic be shifted to the database level.
SAP HANA-based apps deliver the best application performance by pushing the execution as far as feasible into the database. Because all of the data is kept in an in-memory database, reading data is much faster than with a traditional database. 
SAP HANA allows for real-time data replication, which reduces data load latency and complexity.
What you'll learn in this course:
End to End business process based training.

Covering Theory as well as practical aspects of

SAP Simple finance

Necessary setup and migration steps  in SAP simple finance

How to implement knowledge in the business process of SAP for different clients.

Techniques & process to apply it.
Who can Learn SAP Simple Finance :
Anyone who has a keen interest in making a career in

SAP.

Who worked as a SAP FICO

An individual should possess excellent communication skills.

should be a good team player

Basic computer knowledge 

Applicants need to be graduates

 knowledge in the area in which you want to do the SAP course will be a big plus
Main Topics
Course Highlights
Hiring companies
Trainer Profile
Certification
FAQs
By Industry Experts
Free Demo Session On Your Selected Course
my expriance about upsurge infotech is good.
Madhura Mayekar
2023-02-28
Hello, I am 100% satisfied with the course and its content. Shilpa ma'am is very professional and explains every question I have in regards to software testing.If we have any suggestions or advice we always send a question to Shilpa ma'am and she explain it very professionally.
"Thank you for making class engaging and interesting." "I appreciate the way you personalize your teaching approach for each student. You really take the time to understand our individual learning needs." "Your feedback on my assignments is always constructive and helpful. I feel like I'm making real progress in the class thanks to your guidance." "I admire the way you create a supportive classroom environment where everyone feels comfortable participating and sharing their ideas." "Your enthusiasm for teaching inspires me to work harder and strive for excellence. Thank you for being such a great role model." Thank you so much shilpa mam & upsurge team.
my course is going very well this field is totally new for me i am not form it background Student but training was given by shilpa mam is clear all doubts and exaplain the concept very well too gives latest example too and Komal mam also explained well while joining the course thank you upsurge team👍😊
It's very good platform to make our career in IT industries.. Experience trainer are available to provide the quality training to make career.You should have to choose the upsurge Infotech to make your career in IT industries.Regards SHASHI Maurya
Professional training edtech company, provides excellent training for software testing and got placed in good company , thanks upsurge for making my IT career
"I was not sure what to expect because the course (Software Testing Manual and Automation) was taught remotely, but I was quite impressed with the entire process. The facility was very professional and there were no problems with connectivity. Our instructor was an expert and very clear in his teaching method. All my questions were answered and the class interaction was very good. Every process including the mock interviews and setting up the interviews was a lot better and really helped me a lot in kickstarting my career as QA. Many thanks to Mrunal Sir(manual testing trainer), Sahil Sir(Automation testing trainer), Komal mam, Sanjukta mam, Sandeep Sir, Suhani mam and each and everyone at Upsurge infotech for all the help you provided. Really a great institute.
Sudarshan Saindane
2023-02-24
I joined python full stack course in Upsurge Infotech. I must say that the teaching staff and all the Upsurge Members are very good , kind and helpful Thankyou Upsurge Team☺
Training is amazing and very effective because I'm able to learn properly and practice on my own with ease. So many thanks for that and looking forward for more opportunities to come across my way! 🙂
Hey upsurge team. Yes my practice and revision is already completed. I want to say that my SAP FICO sir kaustubh sawant is very genius and can say that my sir is king of sap fico. Basically I would like let you know that upsurge team members also very panctual like maithil ma'am,Sunny sir, Payal ma'am, sanjukta ma'am and Shivani ma'am is a best without i couldn't have done anything specially Maithili ma'am and sunny sir gave me a suggestion that what is right and what is wrong in my career. I want to say that both are important in my career thank you so much ma'am & sir. I want to say something about my sir kaustubh sawant bcoz he is teaching style very nice and my sir friendly learning and practice very best. If i get a chance for interview than i'll try my best. Thank you......... thank you so much upsurge team. 🥳🥳🥳🥰🥰🥰💐💐💐❤️❤️❤️Thanks regards. ANKIT YADAV