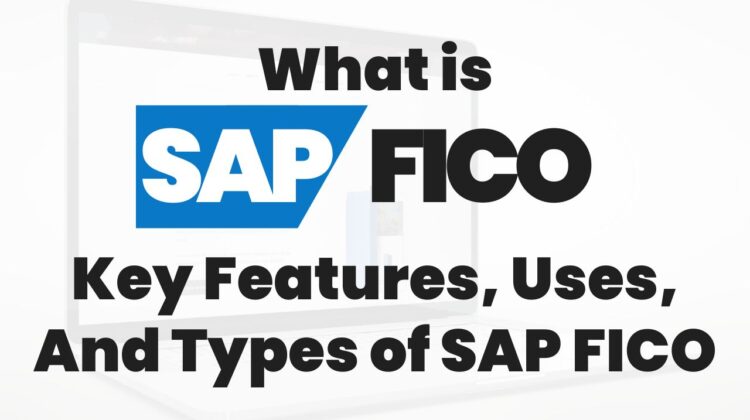 What is SAP FICO? Types, SAP FICO Full Form, and Uses
What is SAP FICO? Types, SAP FICO Full Form, and Uses
SAP FICO is an integral module of the SAP ERP (Enterprise Resource Planning) system that focuses on financial accounting and controlling functions. FICO stands for Financial Accounting (FI) and Controlling (CO). It helps organizations manage their financial processes, perform accounting tasks, and gain insights into financial performance for better decision-making.
SAP FICO Full Form:
SAP stands for "systems, applications, and products". FICO stands for "Financial Accounting" (FI) and "Controlling" (CO).
Key Features And Uses of SAP FICO:
SAP FICO is a critical module for managing financial processes and providing valuable insights to support informed decision-making within organizations.
1. Financial Reporting:
SAP FICO enables organizations to generate financial reports, balance sheets, profit and loss statements, and cash flow statements in real-time, providing a comprehensive view of the company's financial health.
2. Accounts Management:
It facilitates efficient management of accounts payable and accounts receivable, ensuring smooth payment processes and collections.
3. Fixed Asset Management:
SAP FICO allows organizations to manage and track fixed assets' lifecycle, depreciation, and valuation.
4. Cost Management:
The CO component of SAP FICO provides insights into various cost elements and helps in budgeting, cost allocation, and cost monitoring.
5. Profitability Analysis:
Organizations can analyze the profitability of different segments, such as products, customers, and regions, to make informed strategic decisions.
6. Budgeting and Forecasting:
SAP FICO assists in budget planning, forecasting, and variance analysis, helping organizations align their financial goals with actual performance.
7. Financial Compliance and Reporting:
SAP FICO helps organizations adhere to financial compliance standards and regulatory requirements by maintaining accurate and auditable financial records.
8. Integration with Other Modules:
SAP FICO integrates seamlessly with other SAP modules like Sales and Distribution (SD) and Material Management (MM), providing a holistic view of business operations.
Types of SAP FICO programs:
1. Financial Accounting (FI):
General Ledger (GL): Tracks all financial transactions and account balances.
Accounts Payable (AP): Manages payments to vendors and suppliers.
Accounts Receivable (AR): Handles incoming payments from customers.
Asset Accounting (AA): Manages fixed assets, depreciation, and valuation.
Bank Accounting: Tracks all bank-related transactions.
2. Controlling (CO):
Cost Element Accounting: Tracks costs and revenues related to different cost elements.
Cost Center Accounting: Allocates costs to specific cost centers for controlling purposes.
Profit Center Accounting: Analyzes profit and loss for individual business segments.
Internal Orders: Monitors costs and revenues for specific projects or internal tasks.
Product Cost Controlling: Calculates and controls costs related to manufacturing products.
Profitability Analysis (CO-PA): Analyzes the profitability of customers, products, or regions.
Conclusion:
SAP FICO is a critical module in SAP ERP, managing financial accounting and controlling functions. It facilitates efficient financial reporting, accounts management, cost control, and profitability analysis. Integration with other modules ensures a seamless flow of information, empowering organizations to make informed decisions and maintain financial compliance. SAP FICO's capabilities optimize financial operations, supporting strategic growth and success in today's competitive business landscape.
Interested in learning SAP FICO Course? Join Upsurge Infotech Course today