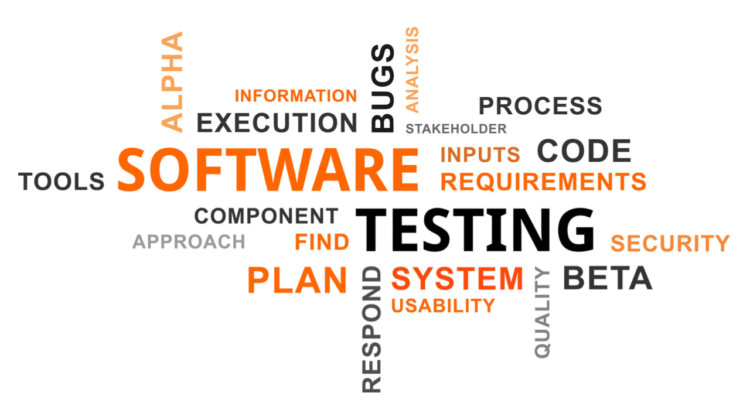 What is Software Testing ?
Software testing is a technique for evaluating whether the actual software product meets the requirements and ensuring that it is defect-free. In this  process we evaluate system or its component(s) with the intent to find whether it satisfies the specified requirements or not. In simple words, testing is executing a system in order to identify any gaps, errors, or missing requirements in contrary to the actual requirements.
Who can do Software Testing?
Anyone can do Software Testing who is willing to make career in IT field. Software Testing doesnt have any fix per-requisite as Non IT Students can also apply and learn Software Testing Training .We at Upsurge Infotech provide Software testing training with placements to all the learners.
Academic Background
Academic background of a software tester should be in Computer Science.
A B.Tech/ B.E., MCA, BCA (Bachelor of Computer Applications), BSc- Computers, will get a job quickly.
If you do not hold any of these degrees and you are a NON IT GRADUATE like Commerece garudate etc. then you must complete a software testing certification which will help you get a Job in IT Industry.
Anyone can do Testing who is willing to Learn Testing concepts.
Software Testing Career Oppurtunities and Jobs. 
There are more than 1,00,000+ Jobs available in Software Testing fields on various Job Portals which hires many Fresh Graduates for various projects.
There is huge demand of IT professionals post Covid and the Compensation of a software tester varies from company to company. Our Most of the students get Average salary in a range of a  Rs 2,50,000/- – Rs 6,00,000/- after completing the software testing training program.
Career Path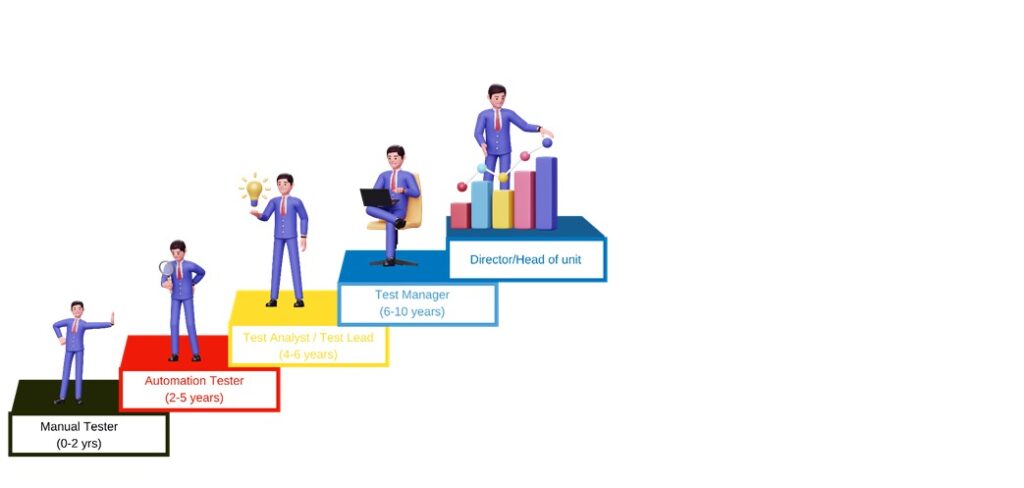 How Upsurge helps you to grow in Software Testing?
Today IT industry is growing at large scale everyone wanted to be a part of it but they think that they required science and technology degree. But software testing is a part were you can start your career in IT industry with any graduate degree so Become a Software Tester with real work experience in Bugzilla, Selenium, Jmeter,Java & more.upsurge will assist you for placement in startups and MNCs through our  Best Software Testing Training Program with Job .upsurge will provides you Internship-grade projects. Live mentoring sessions. Personal Career Guidance.Enroll with Upsurge Infotech for upcoming Batches of Software Testing Training in Andheri & Thane.  Book your Career Guidance Now!
Post covid market in Software Testing.
In the post covid situation, Software testing organizations is rapidly growing in the market. In 2022, the opportunities is growing day by day for the tester compare to pre covid face Now, the company is providing larger amount of opening for freshers as well as for experience candidates. The demand of test will offer immense Career growth opportunities. To make the most of the opportunities, market vendors should focus more on the growth prospects in the fast-growing segments, while maintaining their positions in the slow-growing segments.After the post covid situation IT sector is boosting at large scale in which software testing is also growing. After 5 years the market for tester will grow about 20 to 25 % so it a best platform to be a part of IT industry with Software testing. Upsurge will provide you the best training programme with best facilities. Also upsurge will provide you 100% Job assistants with reputed companies.join software testing training program.
 Skills One learn in Software Testing with Upsurge Infotech
Automation Testing.
Web & Mobile Technologies.
Test Plan & Documentation.
Software Development Life Cycle (SDLC)
Defect Tracking & Test Case Management Tools.
Database or SQL.
Cross-Browser Testing Skills.
Project Management.
Basic Programming Knowledge.
General Operating Systems Knowledge.
Domain knowledge.
Critical Thinking.